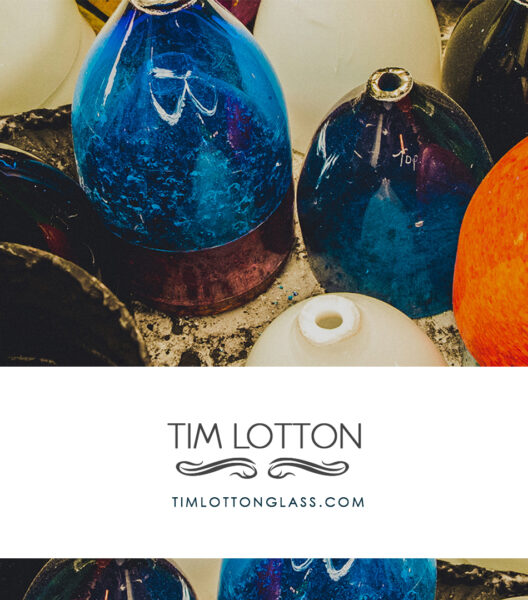 Tim Lotton Glass
Tim Lotton comes from a family of glassmaking legends. He is continuing the tradition by setting up his own studio and brand to provide art lovers with his unique style of glassblowing. We worked with Tim to establish his brand identity, marketing promotions and website.
Brand Identity:
Tim wanted a modern feel to his brand. He likes minimalism and wanted to reflect that in the designs. After listening to his goals and preferences, we did our research to find brand elements that would help cultivate his vision.
Marketing Materials:
Trade shows are Tim's bread and butter, so we needed to make promo materials that would attract visitors and stand out in a crowd of other artists. We knew photography would be king, so we set up photo shoots for Tim's glass and shots of him in the process. Being able to capture the beauty of the glass and being able to showcase it through design allowed us to achieve the results we were looking for. We worked on: promo flyers and brochures, table-top design and banners.
Web Design:
The website needed to showcase what Tim had to offer. We used our amazing product shots to display Tim's amazing glass work. We found that website visitors loved spending time looking through the galleries. Not only that, but we also found that our call to actions for sales weren't strong enough. As we have reassessed, we can now fix the problem and adjust our plan of attack.